Keeping your favourite websites on ridplace offers several important advantages
Quick access: By saving your favorite websites, you can find them quickly without having to memorize or search for the full URL each time. This saves you time and effort when surfing the web.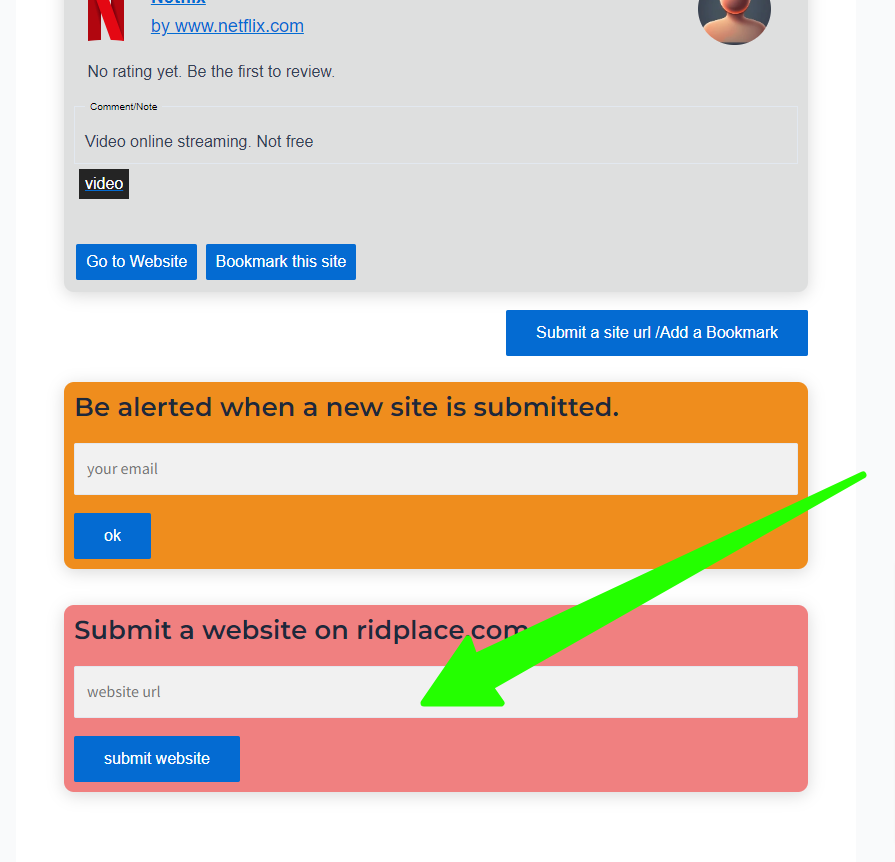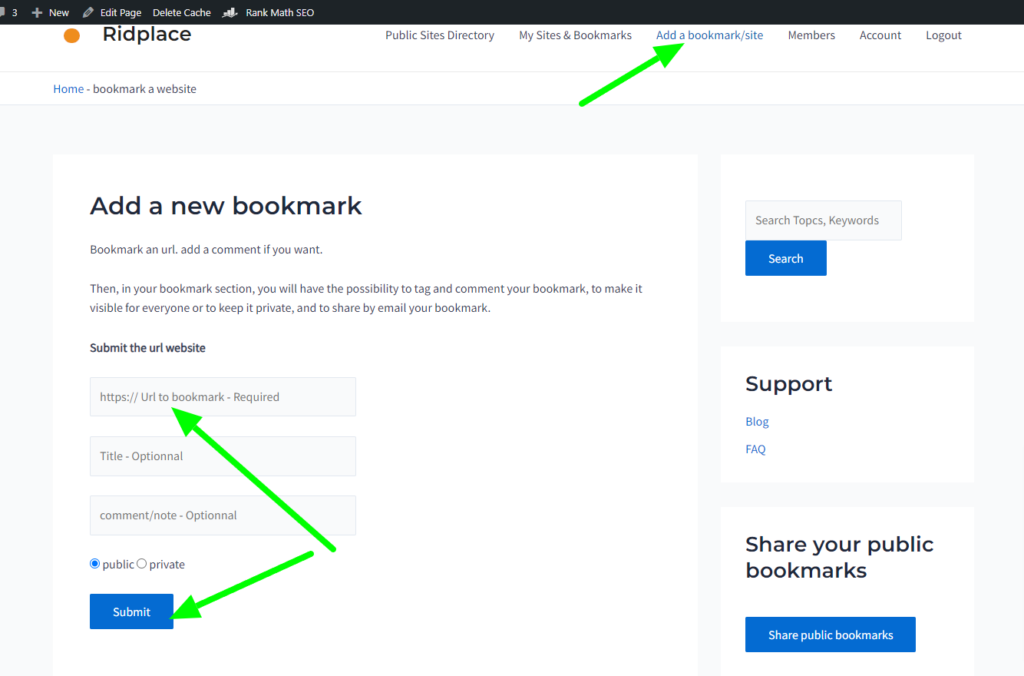 Organization: By tagging your favorite websites with hastags, you can efficiently organize your online resources according to your interests, professional or personal needs. This makes it easier to find what you're looking for later.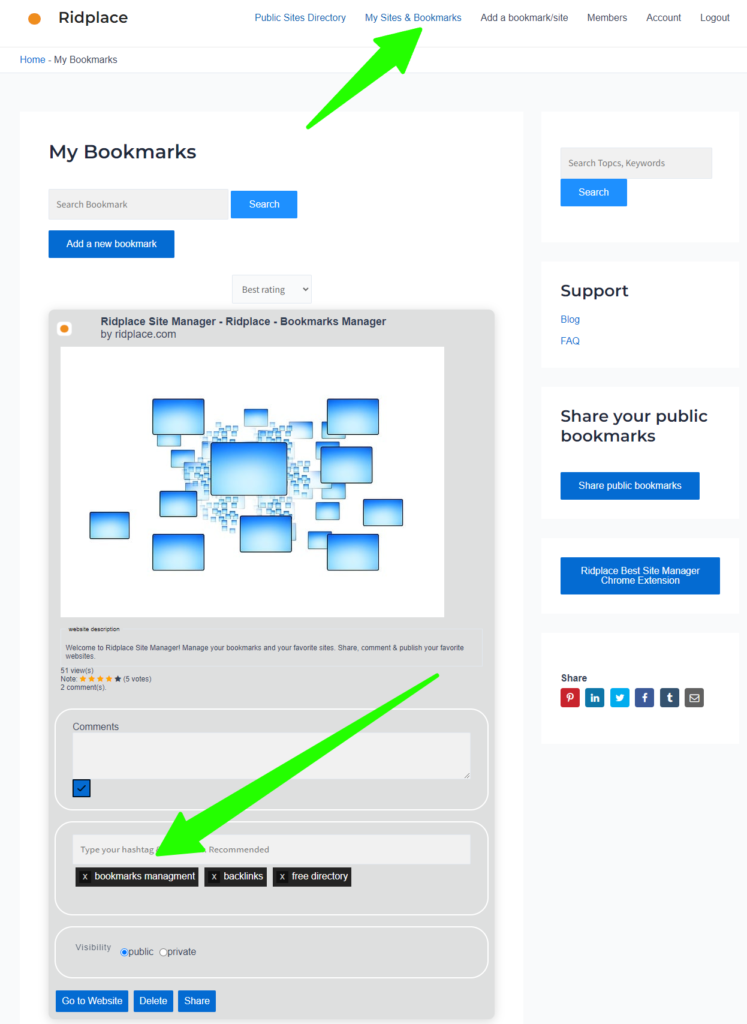 Some websites contain valuable information, tutorials, articles or references that you may need to consult again. By saving them as favorites, you can access them even after some time, avoiding losing them or having to search for them again.
Synchronization between devices: If you use ridplace for your online bookmarks management, or a browser with synchronization capabilities, you can access your bookmarks from any device connected to the Internet. This ensures a consistent browsing experience across all your devices. Synchronization of your favorites is automatic on all devices!
Continuous discovery: By saving interesting websites, you can also share them with others and discover new resources via favorites shared by friends, colleagues or the online community.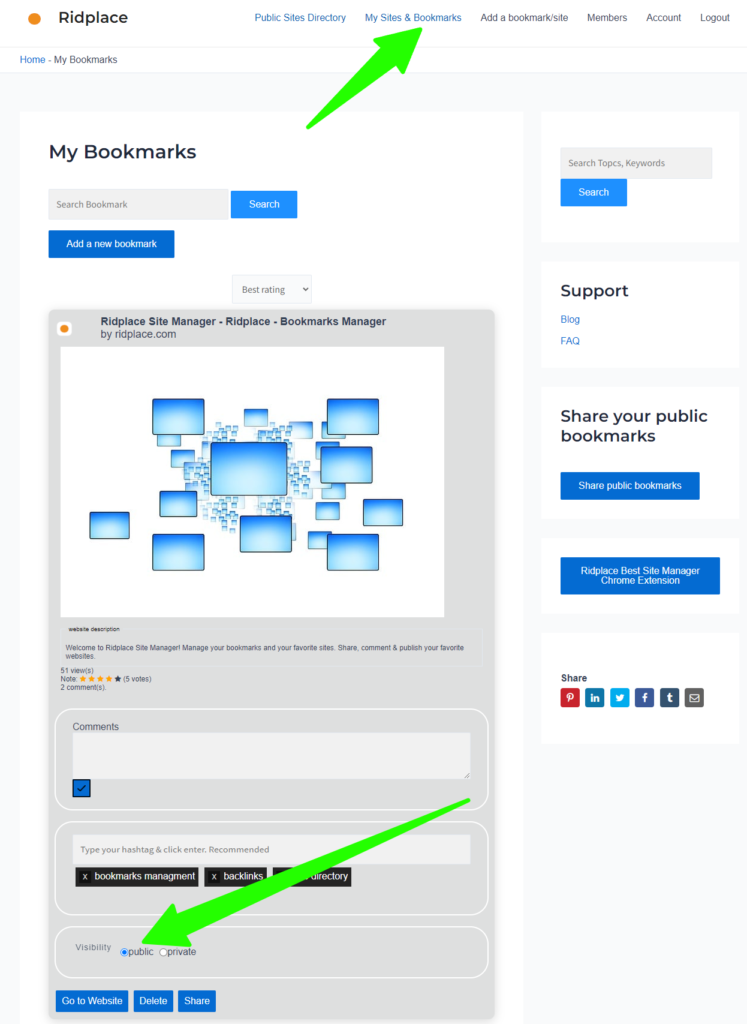 Even if you have an exceptional memory, memorizing a multitude of URLs can become tedious and complicated. By recording websites, you can concentrate on memorizing the essential information rather than the addresses.
Prevention of broken links: Websites can change URLs or be removed from the web over time. By saving your favorites, you avoid the frustration of broken links and ensure that you always have access to important resources.
In short, keeping and remembering your favorite websites is a practical strategy for optimizing your Internet browsing, facilitating information management and enabling fast, efficient access to relevant online resources.
So don't hesitate to make your ridplace profile public and share it on social networks or by email!
The general benefits of ridplace.com online bookmarking site.
Discovering new resources: Ridplace offers users the chance to discover new, interesting, useful or entertaining websites through the favorites shared by other users. This can be an excellent source of inspiration and discovery.
Community and social interaction: Ridplace is a community of users with similar interests. Users can interact, comment and recommend each other's favorites, encouraging exchange and discussion around shared content.
Ridplace enables users to better organize their bookmarks by grouping them according to predefined or personalized categories. This makes finding specific content easier and more efficient.
Online backup: Using Ridplace bookmarks manager, users can back up their bookmarks online, ensuring they won't be lost in the event of a problem on their local devices.
Multi-device synchronization: Ridplace offers synchronization functionality, allowing users to access their bookmarks from different devices, whether computers, smartphones or tablets.
Personalized recommendations: Ridplace features algorithms to recommend similar bookmarks based on the user's preferences, which can be useful for discovering even more relevant content.
Easy sharing: Ridplace users can share their own bookmarks with others, whether for professional or personal reasons. This makes it easy to share relevant information with colleagues, friends or other contacts.
Reducing information overload: With the massive amount of information available online, Ridplace helps its users to sort and highlight the most useful and relevant resources, which can help to reduce information overload.
Ultimately, online bookmarking sites like "ridplace.com" offer a user-friendly platform for discovering, organizing and sharing interesting websites, while promoting social interaction and simplifying bookmarking in the digital age.
Become a ridplace user – it's free!
Receive e-mail alerts for shared sites in a specific domain on the Ridplace platform
Stay up to date: The e-mail alert lets users stay informed as soon as a new site in a field they're interested in is shared. This saves them having to check the platform regularly for updates, and ensures that they're always aware of the latest additions.
Saves time: Rather than actively searching for new sites in a specific domain, users can simply wait to receive e-mail alerts. This saves time and energy, focusing their attention on relevant information.
Targeted discovery: Personalized e-mail alerts enable users to discover new sites in areas of specific interest to them. This can make it easier to discover relevant content without being overwhelmed by too much information.
Professional opportunities: For professionals, receiving alerts about new sites in their field can help them identify business opportunities, potential partnerships, or even competitors.
Competitive intelligence: E-mail alerts on new shared sites in a given field can also be used to monitor the activities of competitors. In this way, companies can keep track of their competitors' developments and adjust their strategies accordingly.
Personalization: Users can often personalize alerts according to their specific preferences, which means they will only receive notifications that are relevant to them.
Data savings: Rather than having to visit the platform frequently to check for new sites, e-mail alerts enable users to reduce their Internet data consumption.