benji112 Public bookmarks directory
0 private bookmarks.
4 public bookmarks .
3.0 (1 ratings )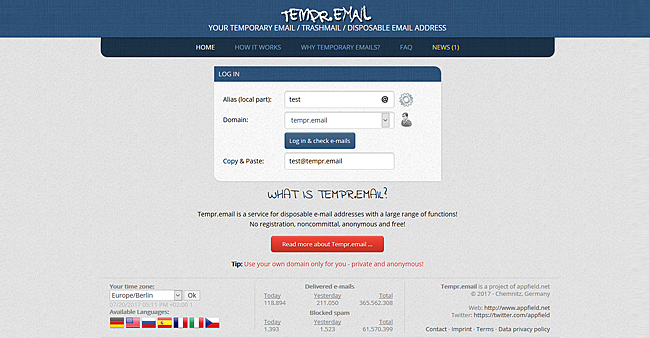 Spam protection: Use Tempr.email, where you don't want to use your own private e-mail address. Anonymous and free. (Disposable e-mail / Trash Mail)
3.0 (2 ratings )


YOPmail provides Disposable Email addresses to protect you against Spam. These temporary email addresses are completely anonymous. Stay Protected always!
3.3 (3 ratings ) 1 comment(s).

4.3 (3 ratings ) 1 comment(s).

List of rating and reviews by benji112
ᐅ Tempr.email · Best Temporary email address, Temp Mail, Fake email
3
I use tempr to verify if en email is not a spam, and to create account to check if a website is not malicious
Web Analytics Made Easy - Statcounter
4
I recommend statcounter website. I use it to obtain stats like screen dimension used by internet user, etc... And it's free!