Best temporary email websites - Public bookmarks directory
ridplace users have marked 2 bookmarks on the topic "temporary email". These bookmarks have 0 comment(s) and 3 rating(s). These bookmarks point to 2 site(s).
2 public bookmarks .
Bookmarks result for tag:
temporary email

3.0 (1 ratings )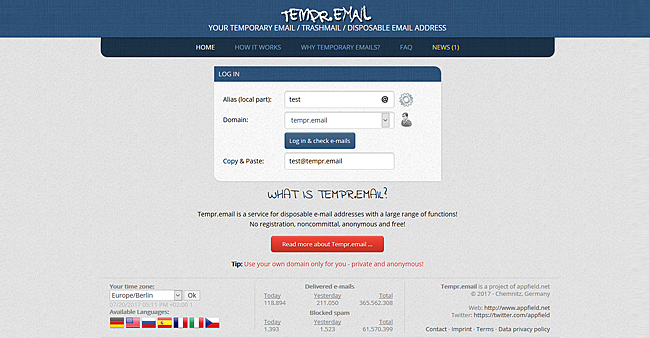 Spam protection: Use Tempr.email, where you don't want to use your own private e-mail address. Anonymous and free. (Disposable e-mail / Trash Mail)
3.0 (2 ratings )


YOPmail provides Disposable Email addresses to protect you against Spam. These temporary email addresses are completely anonymous. Stay Protected always!
Be alerted when a new site is submitted.
A temporary email address is a disposable email service that allows you to receive emails at a temporary address that self-destructs after a certain period of time. It is commonly used to protect your main email account from spam and unwanted subscriptions, as well as to maintain your online privacy by avoiding the need to provide your true identity .
Temporary email addresses are useful in various situations, such as signing up for services, newsletters, or website accounts without revealing your real email address. They can also be used for one-time or short-term communications, snagging coupon codes and sign-up offers, and receiving emails anonymously .
There are several websites that provide temporary email services, such as Temp Mail, EmailOnDeck.com, and 10 Minute Mail These services generate a temporary email address that you can use for a specific purpose and discard when you no longer need it.
It's important to note that temporary email addresses should not be used for important information, as they are short-lived and meant for temporary use only
Frequently Ask Questions
What are the best temporary email websites ?
Find all the best sites talking about temporary email on ridplace.com - list of temporary email sites
How to promote temporary email website and add it in the ridplace free websites and bookmarks directory?
Just add your temporary email website url - Submit a temporary email site
How to write a review of website?
You love a website and want to tell others about it. Nothing could be simpler: with Ridplace, add the site, then rate and comment on it. All users will be able to know your opinion and reply to you. If you hate a website and want to make it known, ridplace makes it possible. Add your site and explain why users should avoid it! There are already thousands of ratings and reviews on ridplace.com. Browse with confidence and use only trusted sites.
Add your favourite site and bookmarks on Ridplace.com
It's simple. Just create an account , it's free! and then manage your bookmarks with the advanced bookmarks manager.
Then you will have the possibility to
publish the bookmarks (or keep it private)
Share your bookmarks
Comment your bookmark
Tags your bookmarks
Rate public bookmark